Beyond Bride Rescue Foundation was established out of an amazing donation to help the Bride Rescue Girls in the Kajiado area.  The board of The Friends of AIC Kajiado Girls School have always seen the need to help the girls "launch" from primary school to high school, trade school, college, university… or wherever they wanted to further their education and saw this to be the perfect opportunity to do so.  Now, we can not only support but follow up on the girls that have left primary school – where have they gone…. what are they doing… do they need assistance to further their education?
This legacy gift will continue changing lives of these very deserving girls.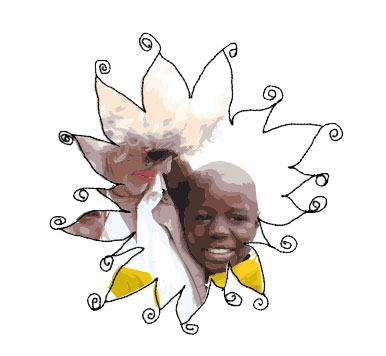 Carol Petersen
What a year 2021 has been!  So sad and yet so amazing for our Bride Rescue girls due to this amazing donation.  It has always been a huge worry as to what happens to the girls after Primary School.  Since meeting AIC Kajiado Girls School in 1999, I knew we had to do more and now we can make that difference in so many girls lives!  Asante Sana!  Thank you for learning more about Beyond Bride Rescue Foundation and keep checking back for success stories!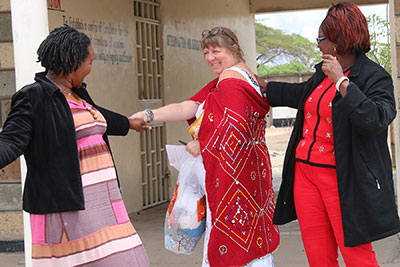 Liz Froese
My husband and I visited the school with Nature Encounters Tours and Travel in 2009.  Upon arrival at the school, the children were so excited to see Carol and the guests that she had brought with her, that they came screaming out of their classrooms to greet us.  The innocence and gratitude that came from these girls was overwhelming, and the obvious lack of much needed essentials was apparent.  We decided then and there that it was our goal to contribute somehow to make the lives of these girls more comfortable and fortunate.  The next year, Rudy and I donated 80 bunk beds, mattresses, and bedding to furnish a dorm which had been sitting empty for years due to lack of funding.  I joined the Board of Directors for the "Friends of Kajiado" upon its conception, and it's been a gratifying experience ever since.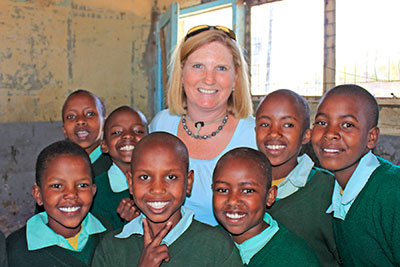 Victoria Buhler
Victoria lives with her family in Vancouver and was first introduced to the girls when planning her first trip to Kenya in 2014 with Carol as her guide. It was a trip of a lifetime celebrating milestone birthdays with her mother.  Meeting the girls was a special moment and she has been involved with them ever since, soon after Carol asked her to join the board.  Victoria went back to Kenya with her family in 2018 and was proud to show the school and the girls to her husband and children. She hopes to continue being involved for years to come.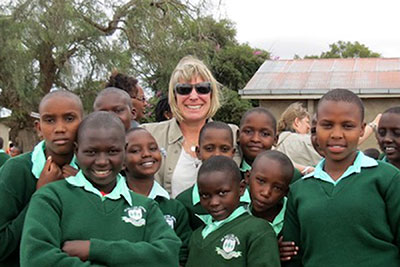 Dianne Cully
I have been a member of the board of the Friends of Kajiado Girls School for 5 years.  I am retired and live in Calgary, and I have been happy to donate time to helping with this amazing organization.
I first went to Africa in 2000 with Carol Petersen and Nature Encounters Tours and Travel, and I was immediately completely captivated by the land, the incredible wildlife, and the lovely people.  On my second trip with Carol, I went to Kenya, and while there, visited the Kajiado Girls School.  It was an experience that truly touched my heart.  We took many much-needed school and personal items to the girls at the school, thanks to many generous donations to the Friends of Kajiado charity.   The girls were so incredibly grateful for everything that they received.  I was overwhelmed with their positive attitude in the midst of very stressful life situations.  They were very excited and happy to talk with Carol's group of visitors.  I will never forget the look on the face of one little girl of about 6 years of age when she received her first pair of shoes.  She was thrilled beyond measure.
I have since had the privilege of organizing several fundraisers for the school in Calgary.  Each one has been successful, thanks to the generous support of many kind and caring individuals.    I am always so impressed by the willingness of strangers to help young women who are hungry for education and what they see as a better life.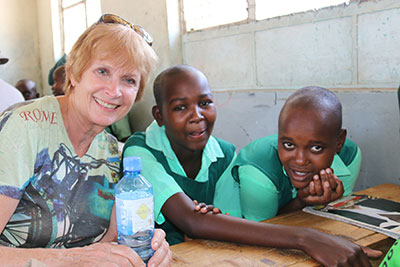 Chris Nicolls
The opportunity to give back in a small way to create equity for all people, But especially females. I believe all children should be well educated and should have the freedom to live the life that they choose.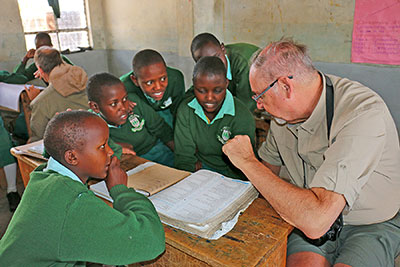 Hellen Inoti has been a teacher at AIC Kajiado Girls School and coordinator for the Bride Rescue Program.  She has retired from teaching to head up our Kenya Team to do what she does best… love and care for the "sisters".  Hellen will be working in the same manner with the administration and teaching team at AIC Kajiado School but she will also be working in the community helping to rescue more girls and addressing the needs of the girls who wish to continue their education.  We are so grateful for her hard work, passion and commitment.  We could not do this most needed work without her.
Samson Muriethi is a safari guide by trade but to us so much more.  He has been a positive male presence to the rescue girls and assists Hellen and Carol with everything from shopping and delivering supplies to working with construction companies on projects.